Brand Leaders from Burger King, El Pollo Loco, Jack in The Box and Pizza Hut Share Their Plans

Fast Food On-Demand
As essential businesses, fast food or quick service restaurants (aka QSRs) were forced to pivot their businesses away from on-site dining to on-demand curbside and delivery service nearly overnight. The Advertising Club and Kargo wanted to dig deeper into how the QSR industry faced these challenges and to see what's next for fast food as millions of customers change their dining and eating habits for the long term.
Kargo CEO Harry Kargman led a meaty discussion with Andrew Rebhun, Chief Digital Officer, El Pollo Loco; George Felix, CMO, Pizza Hut; Adrienne Ingoldt, CMO, Jack in the Box; and Renato Rossi, Head of Marketing, NA, Burger King.
We've recapped the discussion below, but you can also watch the full video here.
New Business Models with a Side of Speed
The conversation kicked off with a look at how the brands shifted from dine-in to takeout in short order. Jack in the Box and Pizza Hut were well positioned with drive thru and pick-up options already in place. Thanks to their focus on fulfillment flexibility, Pizza Hut was also the first pizza chain to get a new curbside pickup option operating. El Pollo Loco built out their curbside pick-up program in six weeks to keep up with consumer demand, but also offered free delivery via Postmates to retain loyal customers during their shift. This increased their delivery volume 5x on the app in the early days of the pandemic.
The Consumer Shift
State and local lockdowns changed how our panelists' brands did business restaurant by restaurant. Changing consumer behaviors shaped how their businesses changed. With the reduced dining options available, Burger King saw a rise in first-time customers. These more affluent newbies tended to order the pricier Whopper over hamburgers or cheeseburgers. Burger King's lower-income consumers traded down to less-expensive and/or value meals. Jack in the Box also saw bigger orders as people were now feeding their entire families rather than picking up something quick on a commute home. The chain smartly expanded its offerings of sides to provide more options for low-income diners.
Marketing Moves
With new patterns in food consumption came new patterns in media consumption. In the wake of canceled sport seasons and other TV programming, consumers were spending more time than ever streaming and connecting on social media, which prompted nearly all of our panelists to shift dollars to digital. El Pollo Loco amplified their digital spend from 5% of their overall marketing budget to 30%. Jack in the Box amplified their partnership with Twitch to take advantage of the steep increase in gaming during the lockdowns. Pizza Hut sought out their sports fan audience on social platforms and through gaming apps.
Campaign creative had to change, too. Burger King had to shelve their March Madness promotions in favor of messaging around contactless pick-up/delivery. Pizza Hut and El Pollo Loco focused on tamper-proof packaging to allay consumer fears. Jack in the Box took an empathetic approach, reiterating that they were there for their consumers as well as touching on safety protocols.
New Definitions of Convenience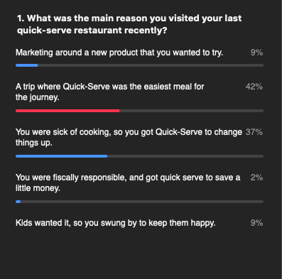 We asked our audience for their own perspective on QSRs during the pandemic. We first asked, "What was the main reason you visited a QSR recently?" The leading answers stayed true to the QSR positioning, most popular as an easy pit-stop while running errands and as instant relief for people sick of cooking. These same consumer motivations led Pizza Hut to streamline their curbside service, adding a new "I'm here" button to make it easier for their teams to spot customers in their cars and to know whether to place an order in the backseat or trunk depending on preferences. Jack in the Box expanded their menu to give consumers more choice and more reasons to come back.
What QSR Trend is Here to Stay?
We also asked which recent innovations would outlast the pandemic. Both our audience and panelists landed on the same trends: brand app development and third-party delivery partnerships.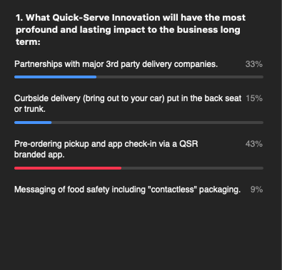 All of our panelists have third-party delivery partnerships, which have skyrocketed since March. The panelists also see an opportunity for branded apps to play a bigger role in delivery. Burger King and El Pollo Loco are looking to beef up loyalty programs on their apps, too.
Foodie or Techie?
With this new reliance on technology for QSR distribution and CRM, it wasn't surprising that our last audience question of the session boldly asked: Are you tech companies or food companies? We only had time to hear from Burger King and Jack in the Box, and both burger chains firmly proclaimed they're all about the food. Digital is a means of enhancing the experience, but people can't dine on ones and zeros.
That's just some of the food for thought that emerged from this session. Please watch it to hear directly from the panelists and be wowed by how fast they all pivoted their businesses and marketing to better serve their fans.