As Featured On MarTech Series
The degradation of the third-party cookie is causing seismic shifts in the advertising identity ecosystem. We have already seen the impact it has on audience targeted campaigns, specifically on Safari browsers. And, Google has already committed to implementing similar restrictions across its Chrome browser in 2022. Understanding this, marketers are exploring solutions that provide audience scalability and efficacy in a post-cookie world.
Tech companies continue to lay siege on the third-party cookie, specifically on Apple's iOS devices. According to statcounter.com, iOS devices hold nearly 60% market share in the US. If marketers try to deploy ID-based audience targeting, it will force them to look to Android, which holds only 40% market share. This will not only impact reach, but audience composition as well. To remedy this skew, marketers can activate contextual targeting along with their audience targeting to achieve incremental reach that normalizes the Android-iOS balance.
We typically know contextual targeting as the go-to strategy for offline channels, or as a synonym of keyword targeting and brand safety measures—and has been positioned as a major contender for replacing third-party cookie targeting. But, because of its lackluster legacy, many marketers are dragging their feet to implement contextual strategies while they can still scrape by with what is left of data and audience targeting. Yet, the advancements of artificial intelligence, specifically in natural language processing, have allowed for the enrichment of content signals, challenging old notions of this targeting strategy.
Contextual Empathy
Contextual 2.0 can be defined as the diversification of latent content signals. These signals include measuring and classifying the style, tone, and voice of content, creating more nuanced options for ad targeting. Take "tone", the momentary emotional response to content. Content and stories have an innate ability to make us "feel" something in that specific moment. Using this data, marketers can decide which message to use to connect emotionally to the consumer.
Typically, marketers assume it's best to focus on positive content, which will then hopefully drive a more favorable opinion of the surrounding ads. However, this simplistic use of contextual may not be what's best for the brand. While some brands may thrive on positivity, others may thrive on adversity. To put it into perspective, the emotional power of Contextual 2.0 can help brands strike a level of empathy with their audience. Thereby, they can be more sensitive to their messaging and tone when interacting with the content of the page. Looking at 3 levels of emotions (positive, neutral, negative), a brand should build a unique empathy matrix, with the expected/anticipated corresponding emotional experience, as they test different combinations of ad and content. For example: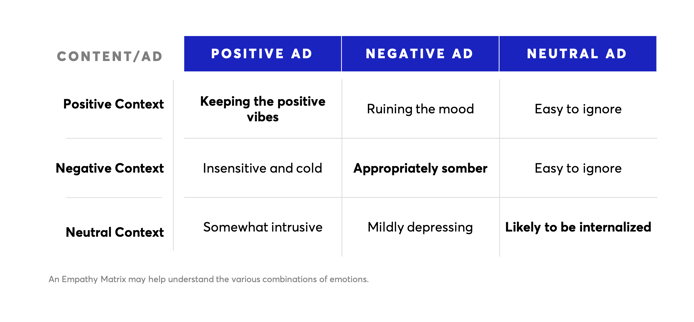 The Empathy Matrix can help marketers tailor various messages to different emotionally charged contexts. For example, a "joyful" ad—such as celebrating a snack food—might feel out of place in an article about an auto accident. Whereas an auto insurance brand may lean into this content and offer a voice of comfort and assurance. There is evidence that higher alignment leads to better performance (Golfarb and Tucker, 2011), such that highly positive campaign messaging will perform best when placed in highly positive content.
Contextual Categorization
In other ways, context, style and voice can be vital to building brand synergy between the editorial environment and the brand message. For style, brands can analyze features such as the length and readability of an article and what the content is about. Not to be underestimated, content categorization can give the intelligence and flexibility that keyword targeting can often fail to deliver on. For instance a popular steak sauce brand built a holistic media strategy to increase brand awareness. Following standard industry practice, they steered away from keywords deemed not "brand safe." One of these words was "pot." That meant they blocked any recipe content using the word, too. Oops.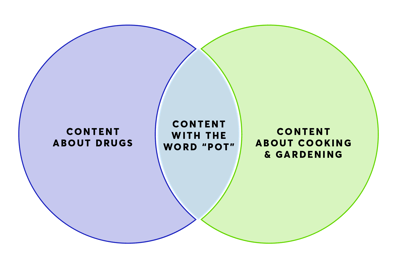 This is where Contextual 2.0 can help with advanced content categorization. While keywords are used to target specific text within articles, categorization finds the actual content that matters to the marketers. We can also use categorization to move away from building specific site lists. For example, CNN is typically categorized as a news publication, however, they have a channel dedicated to Food & Drink content. Activating on site lists, CNN most likely would not have made the steak sauce plan, but with Contextual 2.0 and categorization, brands expand their reach within relevant environments, and effectively help publishers monetize their content.
Contextual Cohorts
Another value of Contextual 2.0 is that it gives brands the ability to develop cookieless cohorts. These cohorts are a bundling of enriched contextual signals that cater to a specific audience. Similar to Nielsen PRIZM, or any unique audience segment, contextual cohorts are built from analyzing signals of similar content and personifying it. Tech companies like Netflix and Spotify do this to make recommendations to their audiences. But instead of going directly to a specific person, the cohort can address a group of similar people. Cohorts can also fill in the signal gap from the loss of the cookie identifier. Recently, Google stated it would start using this cohort method as a method of measuring campaign effectiveness.
Cohorts are designed to bridge the comfort level between audience and contextual solutions. This provides marketers with a baseline understanding and expectation of the types of audiences they would expect to be consuming this type of content. If this sounds familiar, it's because this approach is how TV and print media have behaved for decades. The beauty of Contextual 2.0 is that this approach becomes much richer, more dynamic and measurable. And as more traditional linear and print ad dollars move to digital channels like streaming video and mobile, these parallels will prove to be especially valuable.
Contextual Audience Equalizer
Now's the time for advertisers to test Contextual 2.0, so when third-party cookies reach their final crumbling point, they'll be ready with solutions they may find they prefer. Testing cohorts, creating an empathy matrix—these elements of Contextual 2.0 give brands timely insights about their audiences and the content that works best now and in the post-cookie world.