How often do you find yourself flocking to Twitter or Instagram to get breaking news and hot gossip? Today, social media drives news cycles; celebrities, politicians, and brands share buzzworthy announcements directly from their personal accounts first.
While it may feel like social media has worked its way into becoming a basic necessity along with food, water, and shelter in this day and age, there are still pros and cons to advertising on these channels. It may be a great place for brands to communicate with consumers and build awareness, but on the other hand, (unfortunately) not all content on these platforms are harmless cat videos and memes. All social platforms struggle with content that most brands would consider unsafe, user-generated content (UGC). A sad truth is that in the US, according to a recent survey, 52% of teens often encounter hate speech (racism, homophobia, sexism) while perusing social media.
Considering the murky future for Twitter and the general distrust of platforms like Facebook – is it time to move your coveted advertising dollars elsewhere? Is there serious danger for brands on social media?
The ever-evolving social world
In the short time that social media has been in our lives, it has changed quickly. Once upon a time, to create a Facebook profile, you had to have a college email account, and the platform existed simply as a helpful place for college students to connect, make new friends, and beyond.

Facebook went from the place for young adults® to a platform being abandoned by most users under the age of 50. Facebook is not alone in its race to the bottom. In incredibly recent history, Twitter, a platform mired in its own controversies before this past month, has quickly spiraled into a very dangerous place for brands. Brands concerned about privacy policies, compliance, and the platform's future have chosen (or been cautioned) to pause their advertising, while others may abandon the platform entirely. And while these platforms offer a variety of brand safety tools, it's not a bulletproof solution to keeping your promoted tweets or posts away from damaging content.
The Rise of the social embed
With many social platforms becoming unstable and unsafe, what options exist for advertisers to tap into this channel risk-free? Brands that partner with publishers with real organic traffic, premium editorial content, and zero instances of fraud can help keep your brand from being "canceled." These trusted editorial environments leverage a safe solution to buzz-worthy social content; the social embed - a snippet of content from a social media platform that can be placed within articles.

Over 30% of publishers are embedding trending topics from top social media platforms into their editorial coverage – driving new value for readers and creating a massive opportunity for advertisers. Embedding social content (or Spotify playlists and videos) is proven to keep users engaged. According to our platform's data, social embeds have a 16% higher viewability and a 25% higher time in-view than other content that appears in-article feed.
According to our internal web scraper, embeds from Instagram (61%), Youtube (21%), and Twitter (11%) lead the charge for the most embedded content. However, TikTok, today's social media darling, is ramping up the embed game, with 4% of content coming from the platform. Will we see TikTok embeds overtake Twitter in the next year or so? Only time will tell, but considering the lack of trust from advertisers and users, it wouldn't be surprising to see Twitter quickly fall from its number three spot. Entertainment and pop culture moments reign supreme in embedded social content as well; in fact, all of the top embeds over the past year are related to the Kardashians.
A Portrait of Success: Reintroducing Social Canvas
Kargo's exclusive Social Canvas unit allows brands to surround contextually relevant social posts with their messaging. Combining the best of social and editorial, advertisers can now be a part of the conversation while avoiding the endless unmonitored scrolls and swipes of UGC platforms to drive relevancy awareness, recall & favorability. Kargo is the only provider of social embed data for marketers and publishers.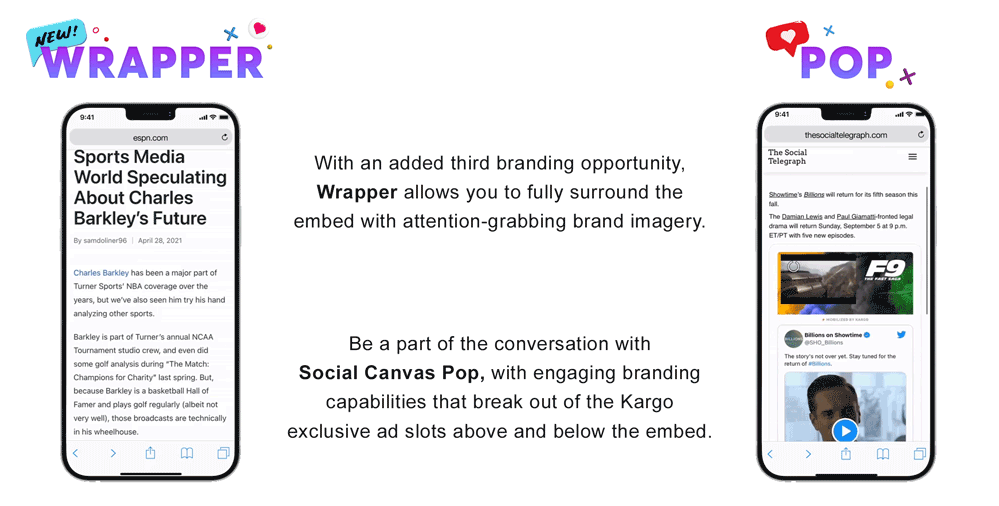 Stop catching heat for a promoted tweet by keeping your brand safe in a premium editorial space curated by editors and journalists. Our cookieless technology can target keywords, hashtags, accounts, interest, and more for guaranteed contextual relevance. Are you ready to make Social Canvas a part of your next campaign? Let's get started.