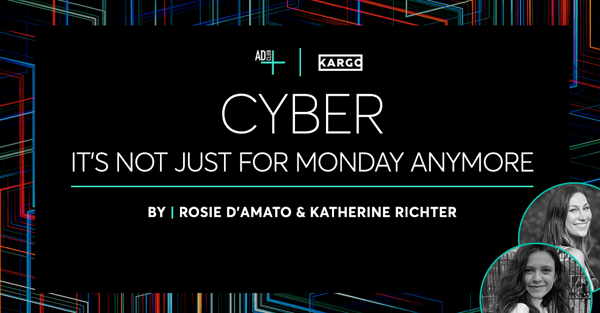 As Featured On AdClubNY
This year has undergone a seismic shift in consumer behaviors. With the pandemic and the ensuing socio-economic uncertainty, people are more likely to hang on to their cash than spend it—making every purchase a little more precious. We saw this in April, when many Americans put those pandemic stimulus checks in their savings accounts instead of spending them as hoped by stores. And in June, when the social and economic reckoning of the Black Lives Matter movement inspired a more concerted effort to direct money to companies that support racial equity and Black-owned brands directly. For instance, consumers making the shift from Tide to True—a BIPOC, Veteran-owned laundry detergent. These choices reflect a movement where our credit card is social currency. So what happens when consumers want to carry that social responsibility into the largest shopping day of the year? First, let's address the elephant in the room. Gone are the days of packed department stores and wrangling with a stranger for a marginally discounted plasma-screen TV. The Black Friday stampede will be more of a trot this year. Walmart, for example, has pledged to reduce in-store traffic by 80%. (If they can open at all. As of this writing, shutdowns are looming in many states).
Like most other facets of shoppers' lives, they'll have to move their Black Friday shopping binges to behind a screen. But buyers were shifting to online shopping on this unofficial holiday even when they could still crowd a Best Buy at 5am. Just last year, shoppers spent $7.4B in e-commerce on Black Friday. It's well on the way to becoming a multi-day cyber occasion, with Small Business Saturday included, as well. As we're moving more and more online, tech companies like Square and Shopify have provided tools for small businesses to easily build a digital presence with e-commerce. Customers can enjoy the ease and safety of online shopping while still diversifying their spend and investing in their local economy.
It's clear how people will be buying online this year, but what will be in their carts? Remember, consumers have made it clear they want brands they buy to reflect their values. So companies that support causes that bolster the greater good and give back to their communities will see a bump this holiday season. Take the millennial sneaker brand AllBirds. They've already donated a pair of sneakers to medical workers working to combat COVID-19 and now are raising prices on their apparel with proceeds funding Greta Thunberg's youth-led climate movement Fridays for Future. Or JBL, the mini-electronics titan. They're partnering with a non-profit to donate headphones to students in virtual classrooms. The products themselves—sneakers and headphones—are typical Black Friday fare, but the charitability resonates, and these initiatives are likely to shift consumers from one brand to another.
The holidays will most certainly be different this year but the urge to buy gifts for loved ones will keep people swiping. Because the pandemic will prevent a lot of us from being with family for the holidays, we may even see a bigger urge to buy gifts. But the biggest winners this Black Friday will be the brands that acknowledge the moment—that shoppers want to buy more than just sneakers. And perhaps they'll lead the way to a retail future that's as community-minded as it is commercial. It's still the holidays after all.