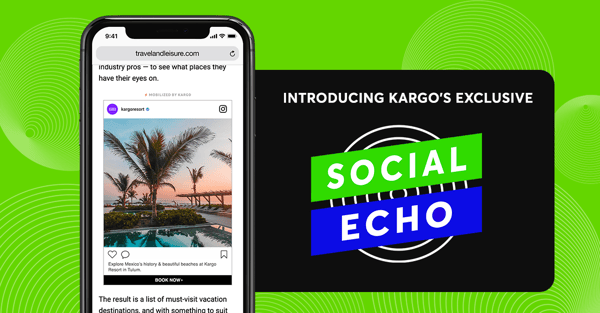 I'm scrolling through my Instagram feed when I stumble upon an ad for sunglasses. I stop, swipe through the photo carousel, click through to the website and start shopping. The thing is, I own a pair of sunglasses already that I'm actually really fond of. Why am I so interested in these new sunglasses? What is it about Social marketing that is so powerful?
When I reflect on this question I can't help but think about the emotional frame of mind I'm in when browsing social platforms. It's an aspirational frame of mind. The reason I'm interested in these new sunglasses is because what I'm being shown is content that has been expertly produced to show me that aspiration...and it works. Understanding your target audiences' aspirations is very important to the ultimate success of any type of brand messaging.
When we think about time spent on mobile devices we often fail to realize the significant time spent within premium editorial content on the mobile web–which often comes directly from clicking on a link from a social platform. This presents an opportunity for marketers to capitalize on that critical aspirational moment and bridge the gap between social and traditional media platforms.
Introducing...the Social Echo. Now, marketers can leverage the highly produced, visually appealing, powerful creative assets built for social in this latest format from Kargo.
Imagine the impact potential for brands that are able to effortlessly amplify a viral social post across the top premium publishers in mobile web. Repurposing social assets across mobile web opens up a world of strategies, cost savings and efficiencies. Paid, owned, and earned media can now go hand-in-hand using organic customer interaction with Instagram and Facebook posts.
BENEFITS DELIVERED:
Cost Savings and Efficiency: Creative production can be time consuming and expensive. The same time and money utilized to produce social assets can instantly be transformed and optimized into high impact mobile web creative with the click of a button.
Social Amplification: Create cohesion by promoting similar brand stories across earned and paid media strategies.
Social "Lead Gen": Funnel users to a brand's social page which is a proven source for product discovery or intent to buy (purchase in Instagram).
Design: Image forward, engaging "social elements" provide a familiar and trusted environment for audiences.

Add Social Echo to your next campaign! ACTIVATE TODAY