The B&T Awards are Australia's biggest, longest-running, and most entertaining awards, recognizing the cream of the industry's crop in advertising, marketing, and media.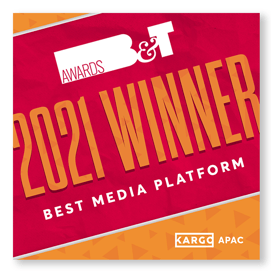 We are proud to have been named as this year's Best Media Platform —demonstrating sustained commercial success, dramatic influence on the market, and value as an advertising vehicle.
"Kargo APAC has had an unbelievable 2021 in terms of growth, new products launched, and spearheading thought leadership in mobile advertising. We are looking forward to continuing this momentum into the new year - and hopefully taking home a few more wins in 2022!"
- Robert Leach, General Manager of Kargo APAC
THE ROAD TO THE AWARDS
The Interactive Advertising Bureau (IAB) Australia estimated that digital advertising grew 25.8% year over year (YOY) in the first quarter of 2021, with mobile display growing 34%.
Kargo Australia, a small but mighty team, massively outperformed the market, growing 87% YOY in Q1 2021, with accelerated growth into Q2, averaging 111% growth for the first half of the year.
First launched in 2016, Kargo APAC's success, under the leadership of Rob Leach, can be attributed to our focus on our 3 core values: Supply, Creative, & Targeting.
THE KARGO EDGE
World Leading Mobile-First Ads:
A quality ad experience has to be a "win-win-win"—captivating without being intrusive, well-designed to fit within the context of the page, and drive positive outcomes for brands. Putting art into ad tech, Kargo's award-winning design team turns basic assets into beautiful, exclusive, mobile-first ads—at no cost to advertisers.
With a suite of formats addressing every KPI, there's intention in the experiences we create. We partner with 3rd party research vendors to test every release, ensuring our ads drive engagement, attention, and recall. In FY21 alone we launched ten new formats, including:
Interactive Branded Takeover (BTO) - The industry's only 100% SOV mobile solution. Targeted, scalable, and high impact, BTO delivers a synchronized branding experience across every ad slot on an article page, with metrics showcasing 95% viewability, 81% brand recall and 84% brand awareness.
Digital Circular - Today, 50% of customers use mobile to discover new brands and products. Digital Circular helps brands get discovered in today's "digital aisle" through interactive, coupon-based ads that are customized to the consumer's location.
Composer - Kargo's proprietary drag-and-drop ad building tool, Composer, has created real buzz across Asia. Numerous clients, including Coca-Cola, use Composer to instantly convert their social assets from Instagram and Facebook into hard-working, beautiful Kargo ads, seamlessly expanding their social reach to the mobile web.
Targeting—No Cookies? No Problem!
A veteran solution provider focused on the intersection of creative and premium content, we've always valued the contextual alignment of brand voice with quality editorial environments. We provide advertisers with full transparency into our highly-curated marketplace, and our cookieless solutions enable effective audience targeting while respecting user privacy.
Cohort Intelligence - Kargo's cookieless AI-powered algorithm identifies the most effective contextual environments for reaching your audience, delivering messages safely and at scale.
Powered by IBM Watson and enabled by our exclusive 1:1 publisher integrations, Kargo's proprietary language decisioning engine ingests and analyses millions of articles to create contextual-based targeting segments that drive performance and align with audience interests.


Interested in learning more about our offerings? Reach out to one of our advertising experts and we can show you why we took home the Best Media Platform of 2021!
Kargo Australia Pty Ltd has offices in Sydney, Melbourne, Brisbane, Auckland and Singapore is a subsidiary of Kargo in the United States.