We hope that you and your loved ones are safe as we navigate through this unprecedented period. Kargo has taken significant measures to ensure the well-being and safety of our employees as we have virtualized all of our operations in alignment with government recommendations. Our team is well situated with tools and infrastructure to ensure our daily operations are uninterrupted as we continue to meet our clients' needs. As always, we are here to help.
In an effort to support our publisher community, who relies on ad revenue in order to deliver free digital press, we encourage our partners to advertise as broadly as possible so that the media can continue to report on the timely, fact-based news we depend on everyday.
However, we understand for many brands there are strict brand safety standards that need to be met, and in those instances we are offering additional preventative measures to guarantee brand safety for advertisers:
Update Keyword Targeting to Exclude COVID-19 Content - through our trusted partnership with Oracle Contextual (formerly Grapeshot), we have the ability to add COVID-19 / coronavirus related topics to all negative keyword and content exclusion lists.

Revise Contextual Strategy to Limit Hard News Sites

- Site lists can be revised to remove certain publications such as hard news or can only run in specific verticals such as lifestyle, food, entertainment, or sports.
Reduce Ad Exposure on Anxious Content with Sentiment Targeting - Exclude any "anxiously-charged" content using Kargo's proprietary sentiment targeting capabilities.
Read more about Kargo's efforts on Marketing Dive:
"Comscore, Kargo and others introducing brand safety features specifically addressing the novel coronavirus is another sign that marketers are demanding tools to help them better navigate a highly tumultuous time."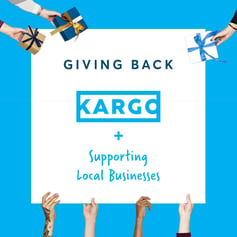 Contact us today if you are currently running a campaign and would like to implement any of these measures or learn more.
During this unprecedented time, it is more important than ever that we do our part in supporting the local businesses that are hardest hit. In lieu of budgets originally planned for events and entertainment, we are redirecting these resources towards the small businesses in our community. If you are interested in learning more, please drop us a note and we will let you know how you can get involved.
STAY IN THE KNOW:
Kargo has curated the latest mobile trends, best practices and insights into a comprehensive guide in an effort to provide clarity and direction during this time.
To see industry insights visit our Covid-19 FAQ Page -- and be sure to check back weekly for the most up-to-date information.
Stay well and take care!