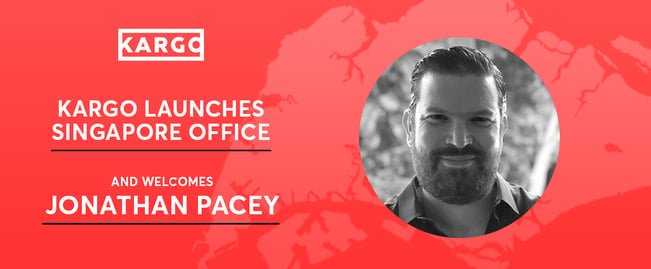 We are excited to announce the opening of Kargo Singapore - the latest addition to our continued international expansion.
Representing the most advanced digital economy in Southeast Asia, Singapore acts as a gateway for further development across the region. With the estimated total APAC ad spend forecasted to rival that of the US by 2022, establishing a local presence is key to our commitment to grow and support our already thriving APAC business.
The focus for the new office will be to develop both the local Singaporean advertising business, while servicing the Pan-APAC campaigns that are created in Singapore. As part of our work in the region, we will also be working with local publishers to help them better monetize their mobile ad inventory.
To lead the new office and advancements in the region, we welcome Jonathan Pacey to serve as Sales Director for Southeast Asia.
Meet Jonathan!
After working for "The Man" in traditional media companies over the years (Northern & Shell, Fairfax and Newscorp), Jonathan saw the writing on the wall and moved into digital media with both trepidation and enthusiasm.
An experienced digital advertising executive, Jonathan has helped launch media and tech companies in Singapore and across Southeast Asia.
The relationships he brings to Kargo -- on both the Publisher and Agency side -- will be key to successfully launching Kargo into Southeast Asia.
Jonathan and his wife Kym live in Singapore with their one-year old son, Oscar.

"Kargo has built trust within the industry with a great product, a clear message and a strong foundation to continue expanding across the globe. I feel we have a real opportunity in SEA to capitalize on that trust in order to fill a number of clear gaps in the market, specifically centered around brand safety and innovative mobile creative that performs."
In our commitment to deliver to brands around the world the highest creative performance at scale, we look forward to continuing to grow our global presence in 2020 and beyond.
Please join us in welcoming Jonathan and the Singaporean Market to the Kargo family!