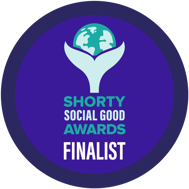 At Kargo, we believe in "doing well by doing good." We have built a marketplace comprised of the best publishers and the best creative, so utilizing our platform to better the world is intrinsic to our values. We are grateful to have had the opportunity to partner with AT&T on its "It Can Wait" program to allow us to effectively drive awareness and change for distracted driving - one of today's most pressing social issues, and are honored to be recognized for this work as a finalist in the upcoming Shorty Social Good Awards.
AT&T's OBJECTIVE
In 2010, AT&T launched the "It Can Wait" program, educating distracted drivers that no call, text, email, or notification is worth dying for. Over the years, AT&T has turned 'It Can Wait' into a social movement, achieving tremendous success by inspiring over 36 million Americans to take the pledge, but the work is not done.
In 2018, AT&T was looking to reach Gen Z, Millennials, and adults 35-54 where they are most highly engaged and active—on their mobile devices, to:
Drive mass awareness through messaging that creates advocates, changes behavior, and generates positive sentiment for the brand

Leverage innovative tactics and test new approaches to traditional media to create buzz and promote engagement
STRATEGY
To amplify the 'It Can Wait' messaging, AT&T partnered with Kargo for its unique access to media, effective targeting, and creative technology.
Too often, creative is built in a silo. But what happens when mobile, video, data, and creative are considered strategically as a unit? Understanding the potential that data-driven creative could deliver, AT&T employed a true test-and-learn campaign.
Two video series, totaling 140 different cuts utilizing a mix of :06, :10 and :15 assets in square, horizontal, and vertical formats with variations of text overlays, audio, and animations were produced. Media-side analytics were dissected to understand the audience, their video preferences, and viewing habits including average view times and completion rates. Providing this true feedback loop, Series 1 performance informed the production of Series 2's creative concepts, resulting in a 22% increase in performance.
AT&T distributed its creative through Kargo's immersive, edge-to-edge, auto-play video ad unit. Viewability was a prioritized metric, so the unit was fully responsive: the video started only after the player came into view. If the unit passed out of view, the video paused, but then restarted where it left off when scrolled back into view. The unit utilized user-initiated audio for optimal user experience.
Over the duration of the campaign, the 'It Can Wait' messaging was distributed across 200+ premium media partners including CBS, NBC, Life&Style, ExtraTV, TMZ!, and Today and syndicated across social channels for maximum reach. Through its efforts, AT&T was able to:
Reach over 18.2M people in the US

Drive 13.3% lift in awareness from users who were exposed to the campaign

Deliver 45% average video completion rate (benchmark: 25-30%)

Achieve 5.21 seconds average in-view time (benchmark: 3-4 seconds)

Resulting in 140K conversions to the "It Can Wait" website where audiences were prompted to take the pledge to stop driving distracted.
Take the pledge. It can wait.