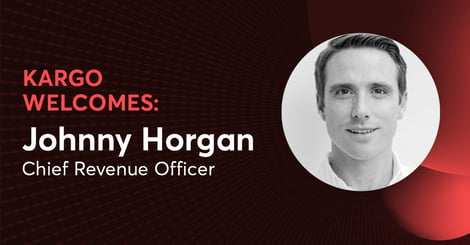 We are excited to welcome Johnny Horgan to the team as Chief Revenue Officer. Johnny will be focused on leading the commercial teams into 2020, a pivotal revenue growth phase for Kargo, largely fueled by strategic planning, product deployment and sales execution.
As the inaugural CRO in Kargo's 17 year history, this role will be instrumental in scaling and growing the business and Johnny perfectly fits the bill.
What Johnny Brings to Kargo:
Johnny comes with 12 years of experience in building and scaling global growth-stage businesses in the ad tech industry including Microsoft, Facebook, Brand Networks, and most recently, Amobee, where he led the social advertising business.

He is an established thought leader with a proven track record of developing and executing operational strategies for growth-stage companies.

His dynamic and thoughtful management style inspires fresh thinking and new perspectives.

His acute focus on people, organizational efficiency and product prioritization has allowed him to successfully build scaled revenue partnerships.
"I joined Kargo because of the impressive team, unique technology and the sizable market opportunity. As we move quickly toward a cookieless world, marketers need a strong premium mobile partner to guide them. No company is better positioned than Kargo. I have spent significant time with Kargo's executive team, and I am confident that our strategic approach will drive unmatched customer value and growth for Kargo's business in 2020 and beyond."
Up Close & Personal:
Johnny and his wife (Ashley) live in the Bay Area with their two daughters: Julia (10 weeks) and Olivia (2.5 years) and a 4-year-old Labradoodle, Bodie.

Johnny takes full advantage of the Bay Area outdoor lifestyle and enjoys surfing, mountain biking, and trail running. He recently swam to shore from Alcatraz Island, a one-and-a-half mile sprint through the swirling waters and strong currents of the San Francisco Bay.
Please join us in welcoming Johnny to the Kargo family!