Support for the Black Lives Matter movement is not a passing trend from 2020, but a lifelong call to the private-sector to evolve. In the wake of the protests last summer, Kargo allocated more than $25,000 in donations to the NAACP and BLM organizations. And while charitable donations are important and appreciated, the ad tech industry can do more in establishing opportunities for meaningful economic inclusion. There have been so many calls to movement allies to shop black-owned businesses. But what if they can't find them easily? Kargo wants to change that. With this newly energized mission in mind, Kargo has taken another step in creating more lasting change through what we know best—mobile advertising.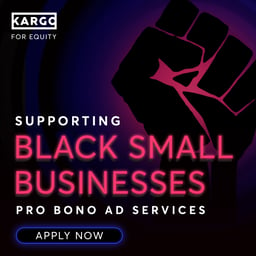 Starting now, Black-owned small businesses will have the opportunity to utilize our technology, creative, and editorial partnerships to expand their digital advertising efforts at no cost. After filling out a quick application, qualifying businesses will meet with our team to design a campaign that's right for their organization. This includes mobile ad creative buildout, access to Kargo's audience targeting suite, and site list curation based on goals for their campaign. We invite business owners to apply here and discover what our own small and mighty shop has already achieved for countless Fortune 500 brands.
2021 has already presented its fair share of challenges, disappointments, and uncertainties after a trying year. However, Kargo remains steadfast in its mission to evolve and contribute to a better world; one that is more inclusive and diverse in every sector of our country. This program is one step in our company's journey. We intend to keep walking forward.
We want to help as many businesses affected as possible. If you or anyone you know may be eligible, please pass along!
Click here to learn more about the initiative, eligibility and how to apply.