Full article can be seen on Business Insider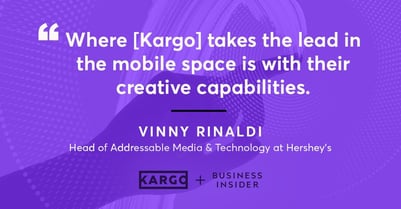 With the 2019 onslaught on consumer privacy and the threat of the death of the cookie looming, 2020 will be a critical year for the industry with the renaissance of creative and design. Kargo has made strategic investments in preparation for this shift and our founder & CEO Harry Kargman recently sat down with Lauren Johnson of Business Insider to discuss the exciting future ahead.
"We have invested in technology for over two years to better enhance new creative formats but to do so in a way that establishes us as a programmatic leader, we finally feel like we're set up for the next trajectory of growth."
2020 has promise to be a pivotal revenue growth phase for Kargo, largely fueled by strategic planning and partnerships, product deployment, and sales execution - including the on boarding of our first CRO, Johnny Horgan, staffing up its West coast and Midwest sales teams with Troy Troutner and Vlad Strelsov.
The Branded Takeover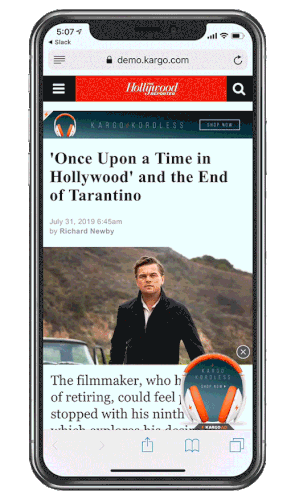 A current challenge with programmatic advertising is that it's hard to build brand awareness when a single page might host 10 ads from different advertisers.
We created the industry's only 100% SOV solution available for mobile.
This newest ad format utilizes contextual and sentiment targeting to allow advertisers to buy all of the ad space on relevant article pages, eliminating wasted impressions that were a byproduct of the standard desktop homepage takeover.
Given our position in the ecosystem as an invite-only, fraud-free marketplace, Kargo is able to offer this exclusive high impact solution at scale -- currently available across over 40 premium publishers including Brit+Co, Livestrong, Variety, Rolling Stone, HGTV, Food Network, Travel Channel, Complex and Timeout.
Proven Success
We're thrilled with how well the product has been received by the marketplace, with early adopter commitments from partners including AT&T, Subway, and Hershey's Kit Kat.
"Where [Kargo] takes the lead in the mobile space is with their creative capabilities," Vinny Rinaldi, head of addressable media and technology at Hershey's.
And initial performance results are indicative of the branding power the Branded Takeover has the potential to unlock for advertisers with performance surpassing industry benchmarks by an average of 2-3x.
In initial tests, people spent 40 seconds engaging with the Branded Takeover ads, up from Moat's benchmark of 16.6 seconds and that the ads generated a 2% click-through rate, up from Google's mobile benchmark of 0.6%.
Additional metrics:
Viewability: 97% (MOAT Benchmark: 54%)

Purchase Intent: 65%-70% (MetrixLab Benchmark: 25%; Dynata Benchmark: 29.3%)

Awareness: 84%-97.7% (MetrixLab Benchmark: 53%; Dynata Benchmark: 23.6%)

Recall: 81%-97.7% (MetrixLab Benchmark 29%; Dynata Benchmark: 26.8%)
With 2019 coming to a close, we are looking forward to a fresh start in 2020. We are excited for the strategic moves we have made with new products and leadership - allowing us to offer better services for our advertising clients, better solutions for our publisher partners, and better overall user experience for our consumer audience.
Thanks for your continued support. Cheers to the New Year!
Learn how we can help your brand in 2020
Full article can be seen on Business Insider.