While we can easily get caught up in the day-to-day grind throughout the year, the holiday season is the perfect reminder of the importance of giving back. At Kargo, we believe in 'doing well by doing good' so we are excited for this season's "Kargo Kares" initiative in partnership with the Ad Council. Utilizing our platform to create a better world is so intrinsic to our values so as part of the program, we have hand-picked four Ad Council sponsored social causes to support with the creative build-out and distribution through mobile advertising.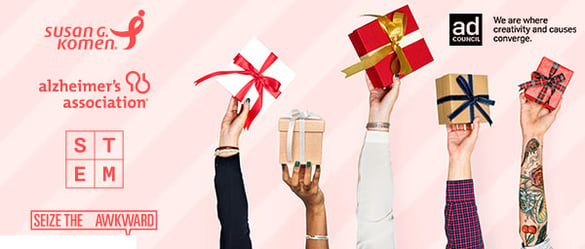 Supported causes include: Alzheimer's Awareness, Breast Cancer Risk Awareness, She Can STEM, and Suicide Prevention.
Through the generosity of our publisher partners, we're able to effectively drive awareness and change for many of today's most pressing social issues. Using each organizations' assets, our award winning-design and high performance mobile creatives will be distributed across a curated media list at no added cost. Publishers that are taking part in the initiative include BDG (Bustle), CollegeSpun, Daily Mail, Penske Media Corporation, Ranker, YourTango and many more.
"We're so grateful to Kargo for this strategic partnership that will impact several critical social issues. The Ad Council partners with the most creative and innovative companies in the world to develop world-class creative content. Our goal is to reach the right audience at the right time to effect change on some of the country's most important causes. We focus on storytelling to raise awareness, inspire action and save lives." - Kathy Kayse, Chief Media Strategy & Partnerships Officer, Ad Council
Happy Holidays!