Performance marketers, get ready - this new update is for you! Meta has unveiled a new solution, Advantage+ Shopping Campaigns (ASC), aimed at combating signal loss and simplifying campaign setup, all while driving better performance.
While Advantage+ Shopping Campaigns offer significant promise, challenges still remain. However, thanks to our integrated solutions, Kargo Commerce tackles these challenges and gets these campaigns working harder and smarter for your brand.
What are Advantage+ Shopping Campaigns?
With shrinking audience sizes and a black-box algorithm, advertisers struggle to target potential consumers. Using machine learning, Advantage+ Shopping Campaigns aim to alleviate some of these obstacles without compromising consumer data.
When compared to manual shopping ads, ASC offers advertisers significant advantages. These benefits include: requiring fewer inputs in the campaign creation process, offering simplified audience options, and providing an easier creative management system. In addition, this technology provides increased opportunities to optimize campaigns and, ultimately, deliver higher conversion rates.
Apple's release of iOS 14 dramatically changed how Meta's ad targeting system worked. While this update helped protect user data, it came with a multitude of challenges for marketers. For example, Meta advertisers could no longer easily retarget users who viewed their website unless they opted-in to tracking – greatly reducing retargetable audiences.
How Kargo Commerce helps advertisers with aSC
When creating Advantage+ Shopping Campaigns in the Kargo Commerce platform, you can unlock additional functionality, efficiency, and performance beyond what is possible in native Ads Manager. These unique features include:
Customized and Dynamic Creative: go beyond price and logo with Kargo Commerce's flexible, on-brand product overlays, including star ratings and dynamic pricing and offers such as free delivery, "buy now pay later" and more.
Performance Product Sets: pre-optimize your ASC ads by promoting only your best products. Based on your Google Analytics first-party data, you can filter down to the products that drive the highest ROAS, conversion rate, traffic, and more. This feature definitely gives Meta's machine learning a leg up on the competition when it comes to product optimization.
Ad Creation At Scale: in contrast to Ads Manager, you can select your existing ads during campaign creation, allowing Meta's creative optimization to get to work faster. Additionally, when creating new ads in Kargo Commerce, you can easily set up new variations with one click of a button in our streamlined workflow.
Customized Reporting and Attribution: By combining this with our custom metrics and attribution features, you have the ability to unlock enhanced insights into how your new campaigns are performing - all the way down to individual product performance!
Automation and Testing: finally, Kargo Commerce ensures that automation and testing are not limited to only Meta's ASC algorithms. With Kargo Commerce's rules engine, you can rotate ad creatives to avoid fatigue while also running multi-variant split testing against your "business as usual" programs. This allows you to unearth the true value of ASC, helping you find the right media mix to drive the most efficient outcomes for your business.
Kargo Commerce helps advertisers unlock additional opportunities by scaling creative, unlocking superior performance, and accelerating campaign launch. We've had the opportunity to combine our proprietary tech with ASC to deliver stronger campaigns for several of our retail clients – let's dive into the results now!
Case Study: The Brand Benefits from Advantage+ Shopping Campaigns
For the last couple months, we've been helping our clients get up and running on Advantage+ Shopping Campaigns, combining their automation with our creative overlay capabilities, and we have seen promising results. One of our clients, online UK retailer AO.com, was already using Kargo Commerce in their Advantage+ Catalog ads and wanted to test whether ASC would further improve dynamic ad performance.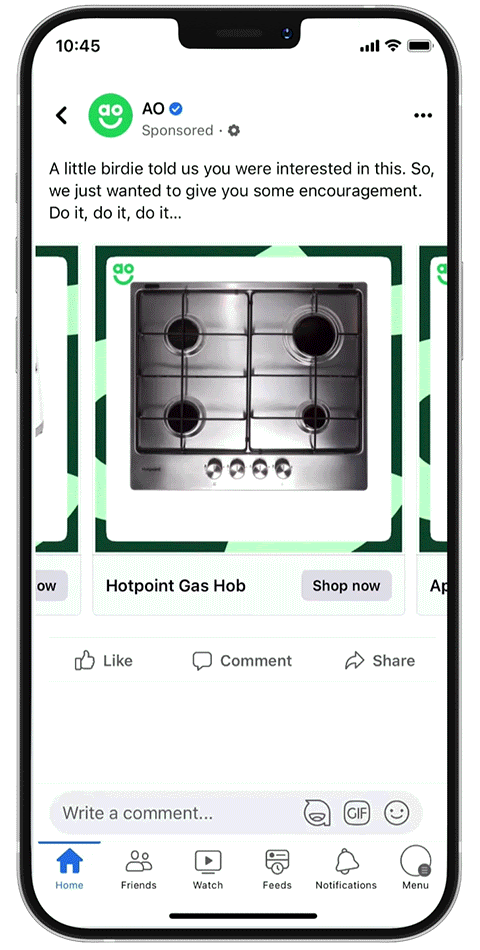 During an A/B test, AO.com received the following results with ASC:
15% more purchases

13% lower cost per purchase

62% more people reached
Our client, Simon Tournier, Senior Digital Media Manager at AO, commented that "Advantage+ Shopping Campaigns have proved a valuable addition to our wider digital media marketing strategy. Not only have the results been excellent, but the opportunity allows us to continue to gain new customers at this particularly challenging time."

As leaders in the social media advertising industry, Kargo Commerce has helped eCommerce brands grow consistently, and we are ready to do the same for your business. Get in touch and find out how our proprietary tech can get your campaigns running harder and smarter.