At Kargo, we believe in pushing the envelope when it comes to innovation. Solutions have been limited for advertisers looking to own a moment or take over the page on mobile web. The desktop homepage takeover had yet to be replicated on mobile in a manner that was executable at scale while delivering value given basic dimension constraints and user browsing habits.
Unilaterally, Halloween is a roughly $9B dollar business, presenting a massive opportunity for Hershey's Kit Kat. So, when Hershey's came to Kargo looking for a way to "own" the Halloween conversation on mobile web -- a historically overcrowded space -- we knew we had the perfect breakthrough, first-to-market solution.
STRATEGY: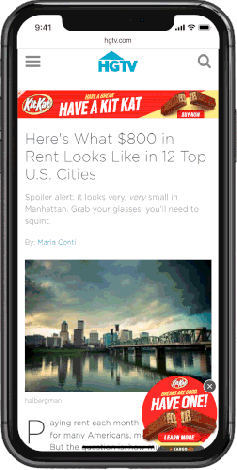 Ultimately looking to drive Kit Kat sales during Halloween, Hershey's sought to build awareness and brand favorability through broad reach efforts in contextually relevant environments across mobile web.
Kargo not only found a way to bring the high impact aspect of the desktop takeover to mobile but was able to do so on an article-basis, at scale, while enhancing performance through targeting with the launch of Branded Takeover -- the industry's only 100% SOV mobile solution.
This first-to-market, targeted Branded Takeover featured Kargo's rich, mobile-first, custom High Rise, Breakout, Sidekick and Video formats that are proven to outperform. Contextual and audience targeting capabilities eliminated wasted impressions, affording Hershey's the opportunity to own all the ad slots on the page where its audience was consuming content.
Additionally, targeting specific content pages and not being restricted to the homepage like a traditional desktop takeover addresses today's mobile consumption habits where users are more often than not coming to sites through "backdoors", ie. social, email, etc. Gone are the days where the homepage was the main point of access to any site.
Kargo's unique access to brand safe, premium inventory provided Kit Kat broad scale in a single ad buy across a marketplace of trusted, high-quality publishers including: Variety, Rolling Stone, HGTV, Food Network, Complex, and Timeout.
With the guaranteed elimination of all competition, Hershey's maximized performance, driving top-of-mind awareness and purchase consideration all through a single brand message.
RESULTS:
Kit Kat's Branded Takeover performance surpassed industry standards by 2-3X, including:
CTR: 2.02% (DCM Mobile Benchmark: 0.6%)

Viewability: 97% (MOAT Benchmark: 54%)

In-View Time: 40 sec (MOAT Benchmark: 16.6)

Purchase Intent: 65%-70% (MetrixLab Benchmark: 25%; Dynata Benchmark: 29.3%)

Awareness: 84%-97.7% (MetrixLab Benchmark: 53%; Dynata Benchmark: 23.6%)

Recall: 81%-97.7% (MetrixLab Benchmark 29%; Dynata Benchmark: 26.8%)
Available across 40+ premium publishers through a single IO buy, Kargo's branded takeover is the first-of-its-kind solution to drive mass awareness on mobile by surrounding major announcements, tentpoles, and conquesting.