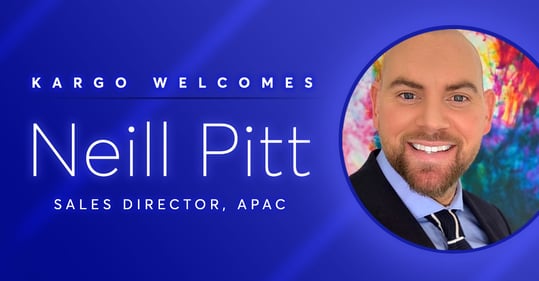 We are excited to welcome Neill Pitt as the Sales Director for Australia and New Zealand. Reporting out of the Sydney office, Neill will lead the region's sales strategy and manage the sales team in Sydney, Melbourne, Brisbane and New Zealand in order to optimise the revenue opportunity and drive significant growth in ANZ.
"Welcoming Neill to the team is a great start to 2021. I'm excited for Neill to execute our growth strategy across Australia and New Zealand, and to serve as the leader to the sales team across our offices there. After an interesting year, Kargo has a unique opportunity to help advertisers and publishers grow their businesses online, and I am thrilled for Neill to take a leadership role in that endeavour."

-Robert Leach, General Manager, APAC
As a sales leader, Neill thrives on developing and managing high performing teams in order to find the best solutions for clients. He has significant experience commercialising new revenue streams and working in multi-faceted organisations. Throughout Neill's decade-long career in media and advertising, he has held several senior commercial executive roles working with larger publishers such as News Corp, SWM and Nine Network. Most recently, Neill was the APAC Sales Director at CBS Interactive running the commercial side of the business across the region.
"I am excited about joining Kargo, a truly global business. I am blown away with how strong the reputation of the business is in-market and just how much opportunity there is to continue to grow across APAC. I'm inspired by the fact that Kargo is a very research-driven business, backed by incredible custom-built technology, which is always looking to identify market trends and exceed results for clients. I can't wait to work alongside the talented team and continue to drive positive results for the business."

-Neill Pitt, Sales Director, APAC